Tokyo is the capital of Japan and one of the world's most populous cities. Mixing ultramodern with the traditional, Tokyo offers a seemingly unlimited choice of shopping, entertainment, history, culture and dining.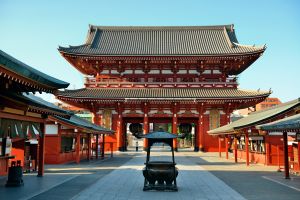 http://www.japan-guide.com/e/e2164.html
http://www.gotokyo.org/en/index.html
https://www.jnto.go.jp/eng/regional/tokyo/
Top attractions:
Time zone:
Tokyo's time zone is 9 hours ahead of GMT. Tokyo does not have daylight saving.
Weather:
Tokyo has an average temperature of about 16.5 degrees Celsius (62 degrees F) with average humidity at about 60%.
October is one of the most pleasant times of the year for traveling in Japan. The weather is warm and dry, and the trees begin to change colors in many parts of the country.
Read more: http://www.japan-guide.com/e/e2273.html
Currency:
The currency of Tokyo is the Japanese yen.
Etiquette:
Correct manners are very important among the Japanese. Therefore, visitors should be familiar with at least the most basic rules. For some "etiquette tips" here are some useful websites:
http://www.japan-guide.com/e/e622.html
http://www.japan-talk.com/jt/new/manners-and-etiquette
Getting around:
Tokyo's transportation system is world renowned for its efficiency, cleanliness and safety. Be advised that the whole system shuts down between midnight and 5:00am. Taxis are clean and safe, but drivers' English is limited.
https://www.lonelyplanet.com/japan/tokyo/travel-tips-and-articles/77060